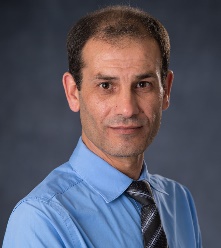 S. A. Saleh (IEEE Senior Member), received the B.Sc. degree in electrical engineering from Bir Ziet University, West Bank, Palestine, in 1996, and the M.Eng. and Ph.D. degrees in electrical engineering from the Memorial University of Newfoundland, St. John's, NL, Canada, in 2003 and 2007, respectively, with a scholarship from the Natural Sciences and Engineering Research Council of Canada (NSERC). In 2007, he joined the Marine Institute, Memorial University of Newfoundland as a faculty and a researcher until 2011. Currently,
he is a Professor with the Department of Electrical and Computer Engineering, University of New Brunswick, Fredericton, New Brunswick, Canada. His research interests include power system operation, control, and protection, digital protection of energy conversion systems, power electronic converter design, analysis, operation, and control, renewable energy systems, motor drives, and digital signal processing applications in power systems, power electronic converters and motor drives. Dr. Saleh research works are supported by the Natural Sciences and Engineering Research Council (NSERC) and New Brunswick Innovation Foundation-Strategic Projects. He is a registered Professional Engineer in the Provinces of Newfoundland and Labrador and New Brunswick, Canada. Dr. Saleh is a recipient of the Harrison McCain Young Scholars Award 2015, and NB Merit Award 2020.
Dr. Saleh is the chair of the IEEE IAS Power System Protection Committee, and vice chair of the IEEE IAS Industrial, Automation, and Control Committee. He is also a member of the IEEE IAS working group on IEEE Standards (3004, 3002, 3001 series).
Keynote Speech Title: Signal Processing Methods in Power System Protection: A Tale of Challenges and Reliability
Summary: This presentation provides the early needs of signal processing methods in the design and implementation of protective relays for powers systems applications. The continuous and steady growth of power systems in generation, transmission, and distribution has created challenges for protective relays accuracy and reliability. Such challenges have been mitigated by employing other signal processing methods. The introduction of numerical relays and later digital relays has been made possible by incorporating additional tools of signal processing. The rise of the de-regulated operation of power systems has posed new concerns for the functionality of protective relays. Furthermore, the increasing levels of distributed generation, together with adapting smart grid function, have added complexity to power system operation and protection. This presentation will provide some new signal processing methods and tools that have the ability for being employed in modern protective relays.